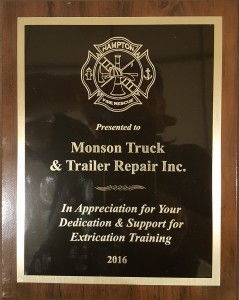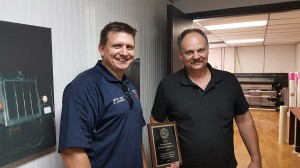 Buck Monson accepts an award from the Hampton Illinois Fire Department for the huge role they played in Hampton's Training Day for area Fire Departments. Presenting the award was interim Chief David Johnson. See the story under Monson News.
Monson Towing and Recovery offers the best available services in every category. You can see it in our commitment to the WreckMaster training programs. We've advanced beyond their training protocols to become a WreckMaster Training Center with programs every year. Now light, medium and heavy-duty towing operators can take the ultimate step up: WreckMaster Certified. Classes covering levels 1-9 plus the WreckMaster Air Cushion training offered exclusively by Monson for WreckMaster in this region. Click this link for more WreckMaster information. https://www1.wreckmaster.com/
Traffic Incident Management (TIM)
Quick Highway Clearance
Communication with highway officials
State of the art towing procedures
Monson customers demand WreckMaster quality. We're ready for your emergency. We proudly wear our WreckMaster photo ID cards so you know you've called the best. See a pictorial of WreckMaster Hands-On training with students from Chicago to Missouri attending the Monson classes. Sign up now for the next session.
LOOK FOR THE SEAL OF EXCELLENCE


---