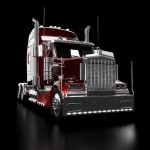 When shifting your rig becomes increasingly difficult and you are experiencing more difficulty ascending, there are strong indications your transmission may be on the way out. And when your transmission does finally conk out, you are faced with the difficult question; "should I have it replaced or rebuilt?"
Every company has a unique financial situation. Obviously for ultimate longevity and the quickest fix, dropping in a new transmission is the way to go. You can order directly from the factory a newer, upgraded transmission with no defects or mileage. But this will be extremely costly, especially compared with how much it will be to have your existing transmission completely rebuilt.
Once your transmission kicks the bucket, you can still get years of use out of it, and for much cheaper than the cost of having a brand new transmission installed. It's simply a matter of having the right transmission mechanic on the job. The right man for the job can replace and calibrate all the worn parts effectively to perform like the day you bought the rig.
Be it a failure in your gears, rotors, bands or even just a pump, the right mechanic can rebuild your transmission to run like new. You will also save on dealer fees and shipping costs, which as you know are not cheap. A typical big rig transmission weighs close to 1200lbs. Shipping this across the country will cost you close to $1,000, on the low end, plus the new transmission cost of at the very least $4,000. These expenses combined- already well above the cost to rebuild a transmission- are without labor costs.
Your business runs on the bottom line. And if you want to keep your profits up and costs low, like most business owners, saving money where you can is the name of the game. Having your transmission rebuilt will have it running as smoothly as a brand new transmission without the new transmission price tag.
---
---