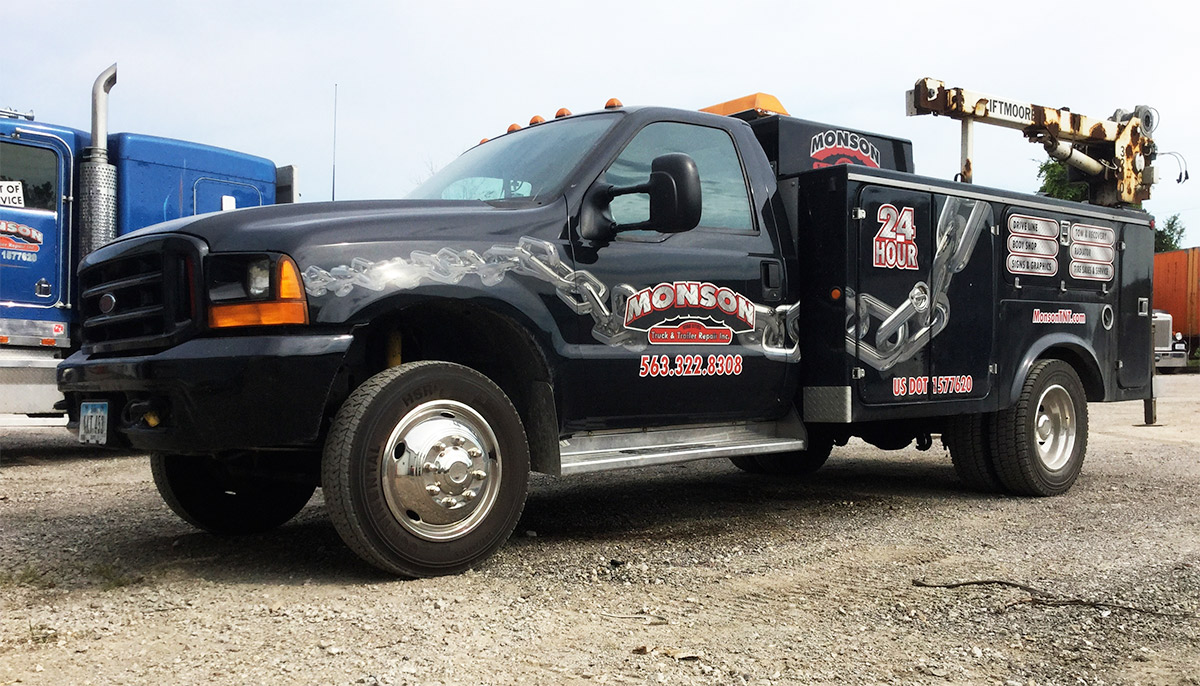 Downtime is a dirty word. When your truck stops rolling, Monson provides complete, fast, on-site roadside service to get you going again. Every roadside repair expert at Monson comes fully equipped to give you comprehensive repairs in any situation. We know there's no "good" time for your truck to break down. Our roadside service is available 24 hours a day, 7 days a week to get you runnin'.
When something goes wrong, you need an immediate fix that will last. Our 5 fully-stocked service trucks arrive with everything from torches to welders and starting units to fuel, so we can address any problem in any situation. Our fast service and problem-solving approach has made us the fastest-growing truck services company in the I-80 and I-74 corridor, and we are continuing to expand to serve you.
If you run into problems, call the shop that operates in the Fast Lane and let Monson get you runnin'.When you know you're in Monson territory, your confidence level goes up. The reason is simple. We've got your back. From the tires up, Monson is geared to move you. We're relentlessly on the job. How so? Take driveline service for example. Whatever driveline component you need, we do it fast! Our shop is built on the heritage of Gear Specialists. That reputation lives on in Monson's driveline services. The same goes for radiator service, engine work, A/C repair, tires and trailer repair. It helps to have ASE, Hyrail and Bendix certification too.
Nothing is more frustrating than having a truck sitting idle. We get it.
To prove that we understand the anxiety you go through when a truck is down, we let you peek in on us to see how things are going with your vehicle. Monson's work-in-progress access allows you to track the progress of your repair on line. We issue you a password-protected link to follow the progress on your vehicle. You know what happens when you can do that? Your confidence level goes up, your pulse and respiration go down. It's called the Monson Effect. It can calm your anxieties and frustration. It's available 24/7 and 365. Put it this way: You drive it. We fix it.
We've got your back at Monson!
Driveline Repair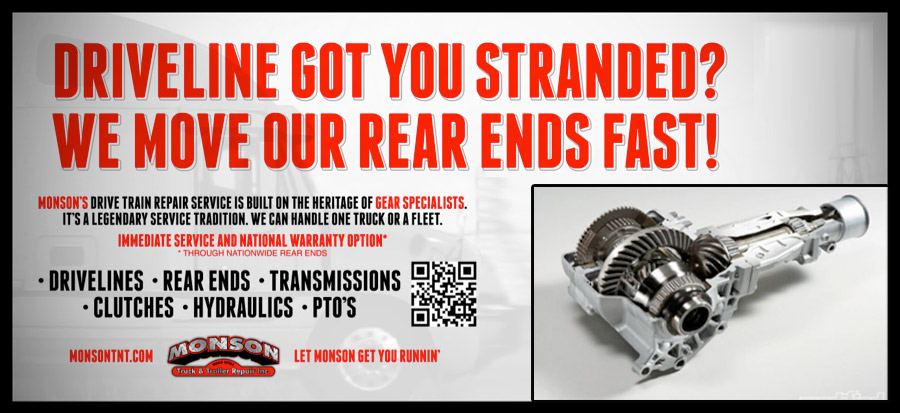 When drive line problems sneak up on you, call Monson. We're ready with drive line and drive train components. Re-man transmissions and rear ends – the whole enchilada. We offer in house repair and offer an optional nationwide warranty. Drive line got you stopped? We move our rear ends fast! Monson Truck and Trailer Repair.

---